With 800 million active monthly users, Instagram is the fastest growing social media platform. This app for visual storytelling can be a great way for local banks and credit unions to connect with their communities and raise brand awareness, especially among younger consumers (the majority of Instagram users are under the age of 30!).
We recently sat down with David Glenwright, social media expert and head of training for JC Social Media, to talk about effective Instagram strategies your institution can start using.
When Should Your Bank Use Instagram
Before you invest time and resources on Instagram, you should make sure of two things:
That your target audience is there.
That you can be consistent in creating visual content (more of that further down this post).
So, what audience uses Instagram?
Instagram is extremely popular with younger audiences (Millennials and Gen Z) and across locations. In short, if you want to market to a younger audience, then Instagram is right for you.
The Power of Visuals on Instagram
While it's cliche to say a picture says a thousand words, it's true for Instagram. Instagram is an image-based platform and you absolutely need a compelling visual to stand out.
This doesn't mean your bank or credit union needs to hire expert photographers and designers for social media. Glenwright says that there are many apps you can use to create better pictures. One of his favorites is the photo editing app SnapSeed, which he describes as "Photoshop in your pocket". He also likes Canva, a website that lets you put text on top of your images to help them stand out.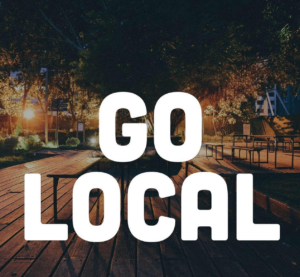 We used Canva to create this post.
There's been a spike in video content on social media recently because data plans are getting cheaper and the quality of smartphone cameras is getting better. And again, you don't need to hire a professional videographer to succeed with video on Instagram.
Hyperlapse is a tool that speeds up or slows down video footage. You can take 20 minutes worth of footage and reduce it to a matter of seconds. Boomerang is another app that takes a series of pictures in quick succession over one second. Then, it plays those images forward and backward to create a sudden, jarring motion that catches a user's eye.
What's the Point of a Bank's Instagram Account?
Someone's Instagram feed is a story. It's an insight into their interests, hobbies, relationships, and more. Can you apply that same idea to a brand? Absolutely
According to Glenwright, the best brand images on Instagram are ones that don't look like they were posted by a company. The goal is to get people to see your content as something that could be part of their everyday life. He calls this "contextual content". Note this example from Buffer. They are a social media management tool but you wouldn't guess that from looking at their Instagram feed. They understand the concept Glenwright outlines and post contextual content.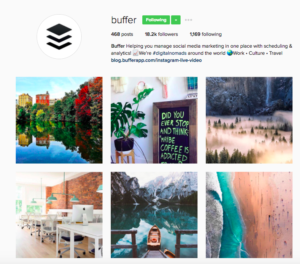 About 15 million businesses have an Instagram account. According to Instagram, more than 80% of users follow a business, and in March 2017, more than 120 million users used business profiles to learn more about that business. If you're appearing on someone's feed, that means they've chosen to follow you and see your content. Don't abuse this privilege by bombarding users with ads (it won't work anyway). Glenwright says one of his top rules for banks and credit unions is to avoid using social media as a marketing and advertising tool. Instead, view it as a platform where you can engage and develop authentic relationships with consumers and your community.
How can Banks and Credit Unions be Successful on Instagram?
Your first thought when thinking of what to post as a community bank or credit union might be pictures of financial institutions, products you offer, or money, but that's not contextual content.
Here are a few ideas CFIs can explore:
Focus on your account holders and what they're able to accomplish because of your institution. Show pictures of them and tell their stories.
People are interested in moments. If your institution attends or sponsors a local event, Instagram is the perfect platform to share that experience.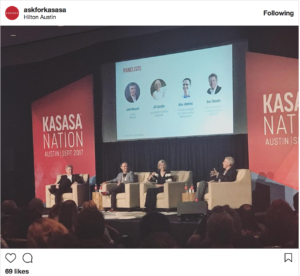 We let followers experience Kasasa Nation 2017.
Ask account holders themselves to share an image that represents one of their dreams or a goal they want to accomplish. This user-generated content makes consumers feel valued (and also means that your marketing team doesn't have to create your own images).
Tell your institution's story. Post behind-the-scenes work that goes on each day. Use images of your staff members and talk about how they've helped your community bank or credit union become what it is today.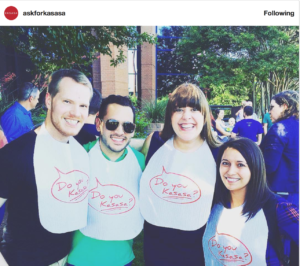 A behind-the-scenes look at life at Kasasa.
Don't be Afraid to Try New Ideas
Glenwright's last bit of Instagram advice for community financial institutions is to keep experimenting and trying new tactics. There's not a one-size-fits-all answer for how to be successful on the platform.
But when in doubt, showcase what your community means to you rather than sending constant sales messages. By doing this, you'll be able to build authentic relationships with consumers and organically increase brand awareness.
For more Instagram Strategies to test, check out this post that recaps a panel discussion we had with bank marketers who are finding success on the channel.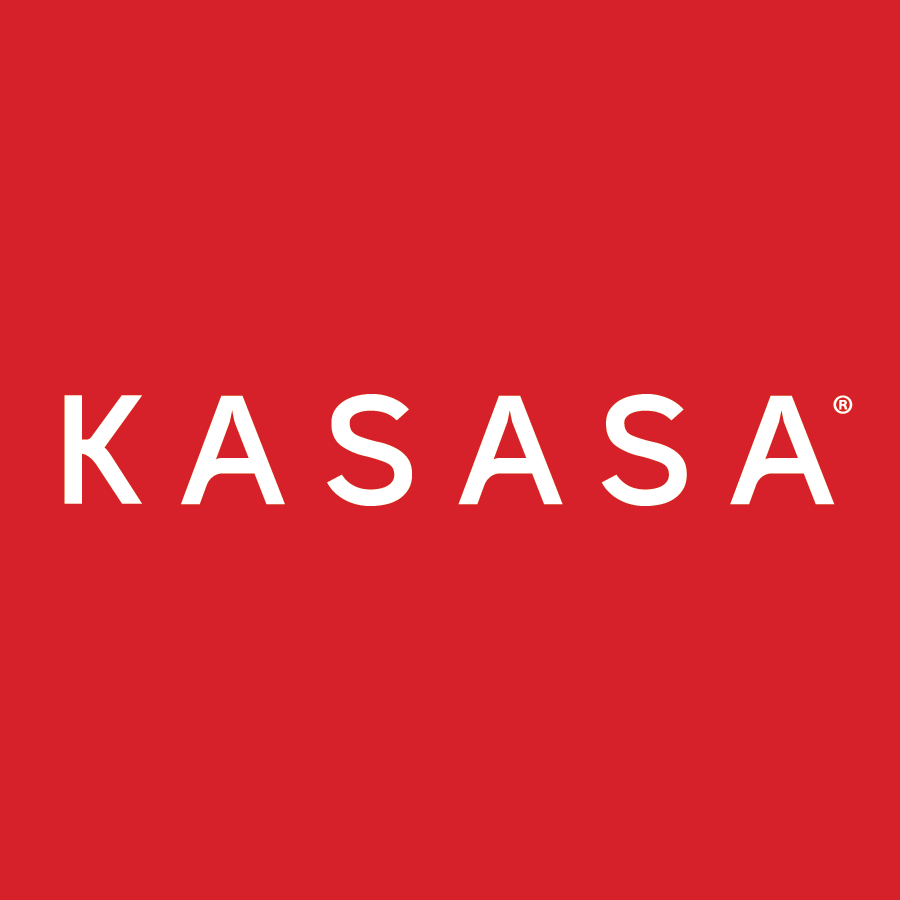 Kasasa
Kasasa® is an award-winning financial technology and marketing services company that provides reward checking accounts consumers love, the first ever loan with Take-Backs™, relationship-powered referral programs, and ongoing expert consultation to community financial institutions. Together we can Take Back Banking™. For more information, visit www.kasasa.com or Twitter, Facebook, or LinkedIn.