Prescription drugs are expensive, but important. And Americans shouldn't have to choose between paying their bills and getting the medicine they need. With a little research, you can save money on the medication that keeps you and your family safe.
The cost of prescription drugs
in the United States
Prescription drug prices — even with insurance or Medicare — can be very expensive for most Americans. In fact, Americans pay more per year than any other country's citizens (around $1,200).
Consumers pay the lion's share, as expensive prescription drug prices are eventually passed down through increased insurance premiums and taxes. And those prices continue to rise every year.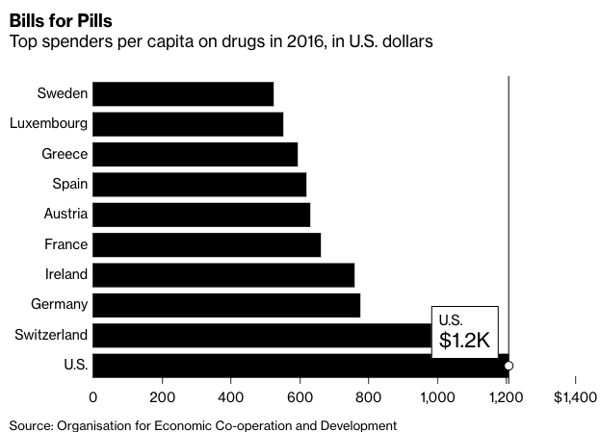 Consider the price for even the most common and, arguably, most necessary, drugs.
The Health Care Cost Institute reports that the price for insulin — the most common drug prescribed to regulate diabetes — doubled between 2012 and 2016. And a recent Bloomberg article reports that cancer-fighting drugs can cost an average of $10,000 per month.
According to GoodRx, 639 prescription drug prices increased by an average of 6% in 2020. This includes generic drugs which increased by a staggering 29.4%.
Why are prescription drugs so expensive?
It's not totally clear why prescription drugs are so expensive to consumers. One might think newer drugs just hitting the marketplace would be the most expensive, as their pharmaceutical makers are recouping research and development dollars. But, new research in the journal of Health Affairs suggests price increases are happening with drugs already in existence, not on new or improved drugs.
In an interview with NPR, Gerard Anderson, professor of health policy and management at Johns Hopkins University, explained that the rising cost of existing drugs benefits pharmaceutical and health insurance companies — not consumers.
"Research and development are only about 17 percent of total spending in most large drug companies," he says. "Once a drug has been approved by the FDA, there are minimal additional research and development costs so drug companies cannot justify price increases by claiming research and development costs."
Researchers went on to say that differences in pricing regulations and the lack of competition are two factors that allow for a higher price of prescription drugs in the United States.
So, it's not innovation that is driving price increases, but raising prices on drugs people already take.
Research your way to prescription savings
There are several ways to combat rising prescription drug costs and save money but one of the most important is doing your research first. Here are a few tips to ensuring you're paying the lowest cost possible.
Shop around

.
The best thing you can do as a prescription drug consumer is to shop around. Prescription drug prices are different from pharmacy to pharmacy, so comparison shopping is your absolute best bet for saving money.
"The price of the same prescription drug can vary by hundreds or even thousands of dollars, depending on where you buy it," according to a new report by the U.S. Public Interest Research Group, which surveyed hundreds of pharmacies and found large price differences for identical medications.
Some findings from that report:
The price for the same inhaler ranged from $11.99 to $1,136.

The same cholesterol medication was priced at $7 and $393.

Consumers could save from $100 up to $5,400 a year by checking out multiple pharmacies.
Use your insurance co-pays

.
Most health insurance plans include some prescription drug coverage and you'll pay a portion of the whole cost at the pharmacy. This is called a co-pay. You should also get a pharmacy card that lists the price you'll pay for prescriptions and a number to call if you're asked to pay a more expensive amount.
If eligible, use Medicare or Medicaid benefits for your prescriptions. Check on your eligibility here.
Check out smaller pharmacies.
You can save big at smaller pharmacies. A recent survey found that 8 of the 12 drugs researchers were looking at were a staggering 840% more expensive at large, big-box retail pharmacies than at smaller or independent ones.
Take full advantage of prescription drug coupons or rebates
.
It is possible to use a coupon for a prescription! This one from Kasasa Care™, for example, can help you save even more than most insurance co-pays. In addition, you'll get:
Prescription drugs for 80% less than regular prices

Savings at over 60,000 pharmacies in the United States

Some generic medications at less than $4

Prescription drug coupons that are free to use, with no signup fees, or obligations
Ask your local bank or credit union
Many community financial institutions are part of Rx savings networks. Through these networks, account holders can receive a free prescription saving card. Ask your financial institution if they offer Rx or drug discount cards or do an online search for institutions in your area that may offer them.
Choose generic drugs when they become available.
Generic drugs are identical to their name-brand versions and fall under the same strict FDA guidelines for their research, development, and manufacturing. Switch to the generic version of your prescription drugs as soon as they come on the market.
For example, switching from branded Nexium to its generic version could save patients an estimated $756 annually. You can ask your doctor or pharmacist to let you know when generic versions become available. If you're prescribed a name brand prescription drug, ask your doctor if there is a generic one available.
To sum it all up...
There are many options that can help you save on your prescription drugs.
Shop around for the best prices.

Use an online tool like this one to help you find prices at pharmacies nearby.

Use your health insurance to pay co-pays instead of the full amount.

See if you are eligible for Medicaid or Medicare.

Use smaller or independent pharmacies — which can cost you much less for your prescriptions.

Enroll in free coupon programs. (We're partial to this one!)

Ask your local bank or credit union.

Choose generic over name-brand prescription drugs.
Remember, it's never too late to start saving. Even if you have an existing prescription, you can always ask your doctor about generic options, sign up for free coupons, shop around for the best prices, and take advantage of programs for which you might be eligible. Or you can transfer your existing prescription to a different pharmacy with a better price.
Depending on what you take, you could be saving thousands of dollars every year. That's worth the effort!