You probably already know prescription drugs are expensive. Even with health insurance, Medicare or Medicaid, Americans pay more for their prescriptions than in any other developed country in the world — around $1,200 per year.

And with those prescription prices rising every year, it's so important to find ways to save money. A prescription discount program is a good option. So good, in fact, that it may have some people asking, "What's the catch?" The truth: there isn't one. Let's dive in to see what these programs are all about.

What is a prescription drug savings program?

To create a prescription savings program, companies partner with third-party pricing negotiators called pharmacy-benefit managers (PBMs). These PBMs are able to negotiate the cost of prescription drugs — both brand-name and generic — on a large-scale, so they can offer better prices to consumers. Hello purchasing power!

So, you get a better deal on the prescription (sometimes up to 80% off!), the pharmacies get more business because of the promotion and competitive pricing, and the PBM gets paid for referring more people. Everyone wins!
Each program is a little different, but prescription drug discount programs act like coupons and allow you to bypass insurance altogether. That means no deductibles. You will pay the retail price of the drug, minus the discount.

How do I use a prescription drug savings program?
PBMs have partnerships with tons of prescription drug retailers — think huge, nationwide pharmacy chains all the way to small, independent drug stores. This is good news for consumers, as it's easy to cash in on the savings almost anywhere.

All you have to do to take advantage of these lowered prices is search for coupons through a free prescription drug savings program. No sign-ups are required.

For example, Kasasa Care™, through its partnership with GoodRx, is one of the most widely accepted and completely free to use programs. We're able to find and negotiate special pricing with pharmacies and manufacturers and pass the savings on to you. Some generic drugs are as affordable as $4 through this program (yes, really!).

More FAQs about prescription discount programs
Are coupons free to use?

Yes! Coupons are completely free for anyone to use.

Do I need to sign up?

No need to register or sign up to use coupons.

Where can I use a coupon?

Coupons are accepted at over 60,000+ retail pharmacies in the United States, Puerto Rico, and the U.S. Virgin Islands — including major chains like CVS, Walgreens, Kroger, Rite Aid, Costco, and Walmart.

Can I reuse my coupons? Do they expire?

Coupons do not expire, though it's always best to double-check every now and then on recurring prescriptions so there's no surprises. Once you've used a coupon, it will be automatically saved in your pharmacy's database for future use. But you can always look for a new coupon to make sure you are getting the best possible price.

How do I find a coupon?

Step 1: Search for your medication.
It's free and easy to find a coupon for your medication. Just go to an online program and enter your medication name in the search field.

Step 2: Enter your ZIP code.
Enter your ZIP code, so you're given access to coupons at nearby pharmacies. (Location, location, location, right?)

Step 3: Get your coupon.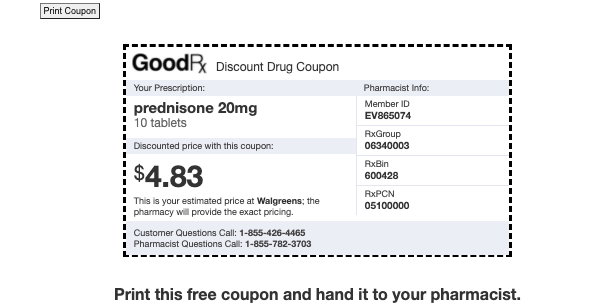 Select the pharmacy with the best price and you'll get a printable coupon for you to use. Or, you can take a screenshot of the coupon on your phone. Either will work at the pharmacy you choose.

Do I need a prescription to use coupons?

Yep!  You will need a valid prescription from a U.S.-based doctor to use a coupon at the pharmacy counter.

I don't have a prescription. How do I get one?

If you don't already have a prescription, see a certified healthcare provider who can write one.

Can I use a coupon if I have insurance?

Yes! The coupon price cannot be combined with your insurance, Medicaid, or Medicare, but the price with a coupon is often less than your cost with those services. Just let your pharmacy know you're using the coupon when you pay for your prescription medication.

What if I'm having an issue at the pharmacy?

The prices listed on coupons are updated frequently and are usually accurate. But, if you have any problem using a coupon, call the phone number you see on it for support. Most issues can be resolved while you're at the pharmacy.

For those that like a little extra cash in their pocket, PBMs and prescription discount programs are a great resource. You'll cut costs on your prescription medications (without the contracts or fees). The next time you're at the pharmacy or at home searching for coupons online, try it out and see for yourself. It's as easy as click, click, save!